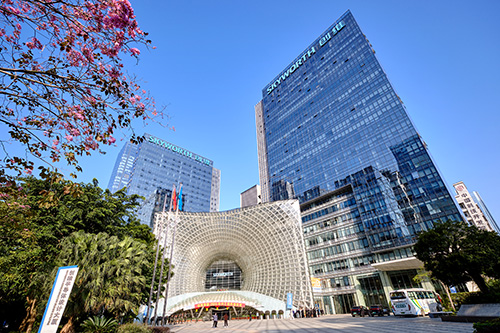 Skyworth was established in 1988, headquartered in Shenzhen High-tech Industrial Park known as innovative Silicon Valley, with over 35,000 employees. Being rooted in China and determined to go global, Skyworth is a large-scale high-tech group company mainly engaged in research, development and manufacturing of such products as consumer electronics, display devices, digital set-top-box, security monitor, network communication, semi-conductor, refrigerator and washing machine, 3C digital, LED illumination, and has been listed in the main board of Hongkong stock market in 2000 (HK00751). Through 26 years of development, Skyworth now ranks among the top ten brands of color TV in the world, grows into the leading brands in China's display industry and lists in the 13th place among the top 100 electronic enterprises of China, with its brand value reaching 48.507 billion Yuan in 2013.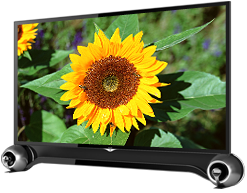 Skyworth persists in the strategy of "making the core industry stronger and relevant industry bigger", so with Hongkong Skyworth Group Limited taking the lead, it has over ten industrial companies as its subordinates, including Skyworth-RGB Electronic Company, Overseas Development Company, Digital Technology Company, Electrical Appliances Science and Technology Company, Qunxin Security Technology Company, Liquid Crystal Devices Company and so on. It also boasts three major logistics centers of Chengdu, Nanjing, Yichun; production bases of Shenzhen Shiyan, Shenzhen Longgang, Guangzhou, Nanjing, Hohhot of Inner Mongolian and so on; science research institutions in Hongkong, Shenzhen, Beijing, Guangzhou, Nanjing and other places. It ranks first in the industry in six respects, namely the largest market share of such four products as color TV, digital set-top-box, security monitor and 4K TV, the highest sustained earnings in color TV industry and the biggest number of annual invention patents. Through many years of deployment and development, it has gradually formed an internationalized management model with its marketing and service branches spreading across the globe. With 41 subsidiary companies, 211 offices as well as over 20,000 contracted customers, it has established a rigorous distribution and sophisticated service system that integrates both county and town (township) markets.
By taking quality as the footstone, Skyworth advocates the principle of "full dedication to finer products", and upholds the idea of development through technological innovation. It leads and promotes the industrial transformation and upgrading again and again in the field of color TV, and implements independent research and development in the field of OLED third-generation display technology, thus ensuring that Skyworth may continue to create and write history in color TV industry, and further lay the foundation for its status as a leading brand in the industry. Skyworth expands its business with an international vision, the color TV, digital set-top-box and other products are sold far to European Union, United States, Japan, Russia and other regions such as east and south Asia, south America and Middle East.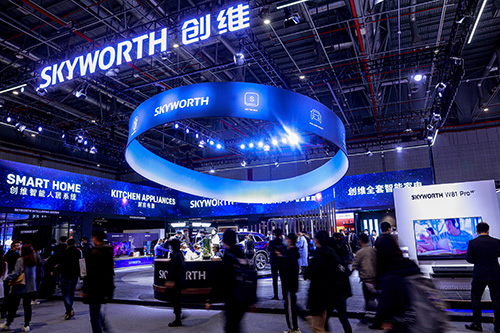 Skyworth Digital Technology Company is the largest set-top-box enterprise in China, with an annual sales exceeding 21 million sets, ranking the first in China and the fourth in the world in respect of trade. It also has Skyworth Software Co., Ltd. under its flag, which is the key software enterprise in the national planning layout.
Skyworth Qunxin's products, such as security monitor, liquid crystal devices, LED chips, LED packaging, semiconductor, auto electronics, precision molds, refrigerator, washing machine, tablet PC, have also set on the road of rapid development, and it gradually grows larger and stronger to form the core competitiveness of the group in combination with the color TV business.
Skyworth introduces the core values of "integrity, win-win cooperation" and "growth values", so as to absorb and train all kinds of excellent talents; it also encourages the development of so many industries that a big stage can be provided for all kinds of talents.
Skyworth has the courage to shoulder social responsibility and dedicate love to society, with an accumulated donation over 200 million Yuan to society through years, it has been awarded the title of one of the Top Ten "Enterprises with Most Compassion" in Shenzhen.
Looking into the new decade in the 21st century, Skyworth has drawn up the strategic plan to achieve business revenue of 50 billion Yuan over 5 years and 100 billion Yuan over 10 years, to forge a industrial link of digital consumer electronics in the depth direction, and provide complete solutions to digital living of consumers, so as to introduce Skyworth audio and video products into hundreds of millions of families, thus enabling people of different countries and nationalities to enjoy a wonderful and fun life with healthy technology, and making commitment to becoming the "leader of global consumer electronics industry"!